Bank Rates Head for Zero Per Cent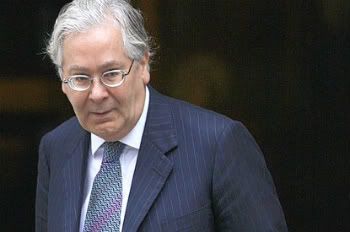 Photo of Mervyn King, the Governor of the Bank of England, courtesy of the Evening Standard
EVENING STANDARD: THE Bank of England said today it is prepared to slash interest rates to zero to save the economy.
Governor Mervyn King said the official cost of borrowing would be cut to "whatever level is necessary" to boost confidence and stave off a long and deep recession.
Interest rates in Britain have never fallen below two per cent since the foundation of the Bank of England in 1694.
The prospect of "free money" was raised on yet another bleak day of economic news:
● The Governor said in his November inflation report that Britain is already in recession and warned that the economy will be shrinking by two per cent a year by early next year.
● He said "confidence has been shaken badly" by the worst financial and banking crisis in almost a century.
● Inflation is now expected to drop to one per cent next year and prices could even start to fall because of the lack of economic activity.
● Unemployment jumped to an 11-year high of 1.8 million. The total is forecast to hit two million by Christmas and could reach three million by 2010.
● The pound fell to a new record low against the euro of 82.1p and also lost value against the dollar.
Jonathan Loynes, chief European economist at Capital Economics, said: "Another cut in interest rates of at least 0.5 per cent next month now looks very likely, with further moves in the following months, perhaps bringing interest rates down to one per cent by the middle of next year.
"But like Mr King, we would not rule out the possibility that interest rates have to fall all the way to zero."
>>>
Jonathan Prynn, Consumer Affairs Editor | November 12, 2008
The Dawning of a New Dark Age (Paperback & Hardback) – Free delivery >>>