Save Your Souls You Greedy Bankers!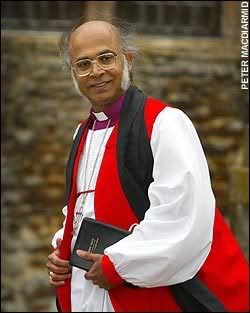 Photo of Bishop Michael Nazir-Ali courtesy of The Times
THE SUNDAY TIMES: Britain's richest men and women must curb their greed and begin sharing their wealth to save their souls, one of the Church of England's senior bishops has warned.
Dr Michael Nazir-Ali, the Bishop of Rochester, singled out high-earning City traders such as hedge fund managers as the kind of people who must swap their desire to "make a quick buck" for a commitment to "share [their] wealth generously".
He said the crisis gripping the world's money markets was "almost certainly" due to amoral forces pursuing their own wealth-creating agenda and warned that without action the less wealthy might suffer disproportionately from the fallout.
"What is required is a change of heart, of disposition, of attitude," he writes in his Easter message, published in The Sunday Times today.
"From possessiveness we need to move to gratitude for what we have, from 'cutting corners' to make a quick buck to that integrity for which business in this country was celebrated, and from mere accumulation of wealth to a generosity of spirit.
"When that happens, hedge fund managers and directors of companies can, indeed, go into the kingdom of heaven ahead of the chief priests and elders."
Bishop of Rochester: Save Your Souls You Greedy Bankers >>>
Mark Alexander (Paperback)
Mark Alexander (Hardback)