The Face that Turns Anyone's Stomach!
THE TELEGRAPH: Sir Fred Goodwin's £693,000-a-year pension is a symbol of banking excess we can ill afford, says Philip Johnston.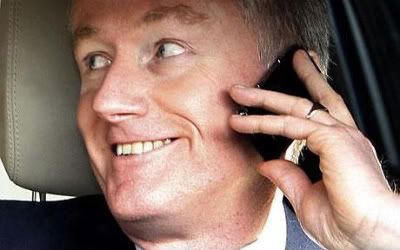 'Fred the Shred', the self-satisfied ex-boss of RBS who presided over the collapse of the bank, now walks away with pension arrangements in Monopoly figures whilst the taxpayer has to pick up the tab. Photo courtesy of The Telegraph
When he appeared before the Commons Treasury Select Committee a few weeks ago, Sir Fred Goodwin, the former chief executive of RBS, was asked about his pension arrangements. The Labour MP John Mann questioned whether his pension was linked to the fortunes of the once mighty bank that he had steered on to the rocks in his eight years at the helm. In light of the disclosure that Sir Fred is receiving a £693,000 annual pension from a 'pot' worth an estimated £25 million, it is worth recalling this exchange.
"Many pensioners in this country have seen their pension go down because share values have gone down", said Mr Mann. "As a principle, would it not be fair that your pension, which is rather a high pension – over £8 million I have seen quoted – would it not be fair to other pensioners in Britain that your pension was linked to the share value of the bank that you ran?" Sir Fred replied: "No, my pension is the same as everyone else in the Bank who is in a defined benefit pension scheme."
There was a populist edge to Mr Mann's line of questioning that should make anyone who believes in the free market and the right of successful individuals to enrich themselves feel uncomfortable. After all, is it being suggested that Sir Fred should not have a pension of any sort or a pay off when he is forced to leave his job? He also had a significant number of shares in RBS and therefore lost a lot of money when they fell in value from around £5.50 to 20p. On the other hand, he brought this disaster upon himself and many others who are far worse off than him; so why should he benefit in any way from the debacle?
What is most revealing about his evidence to MPs is what Sir Fred failed to say. When Mr Mann mentioned the figure of £8 million, he did not correct him and point out that it was, in fact, almost certainly three times that. Further sums, we now learn, were added to his pension pot shortly before the bank crashed with the biggest corporate debt in British history, forcing the taxpayer to rescue it. This top-up meant that Sir Fred could draw a pension even greater than his annual "basic" salary of £650,000 for the rest of his life. Pension analysts believe that to buy a £693,000 annual pension at the age of 50 would cost at least £25 million.
>>>
Philip Johnston | Friday, February 27, 2009
THE TELEGRAPH: Sir Fred Refuses to Give Back His Pension
THE TELEGRAPH:
Treasury Approved £700,000 Pension, Says Fred Goodwin: The "obscene" £693,000 a year pension paid to Sir Fred Goodwin, the man who steered Royal Bank of Scotland to the brink of collapse, was approved by Government ministers, it has emerged. >>>
By Andrew Porter and Robert Winnett | Friday, February 27, 2009
The Dawning of a New Dark Age (Paperback & Hardback) – Free delivery >>>