EU Proposes Bank Tax to End 'Unacceptable' Taxpayer Bailouts
THE TELEGRAPH: Banks must face new taxes to avoid repeating the 'unacceptable' bail-outs of failed banks that cost taxpayers billions, the European Union's chief financial regulator warned.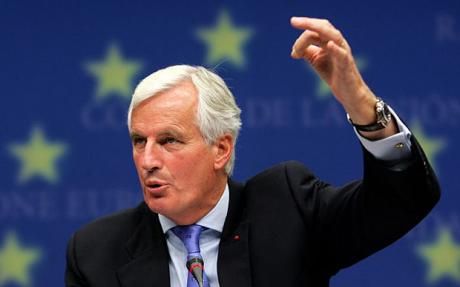 Michel Barnier, the European Union market regulation chief, says he believes in the 'polluter pays principle.' Photograph: The Telegraph
European banks may face taxes on the size of their balance sheets, on how much they owe other institutions or on how much profit they make, Michael Barnier, the EU's Financial Services Commissioner said on Wednesday.
The cash raised would be used to pay for future bail-outs.
"It is not acceptable that taxpayers should continue to bear the heavy cost of rescuing the banking sector," Mr Barnier said. "They should not be in the front line. I believe in the polluter pays principle.
"We need to build a system which ensures that the financial sector will pay the cost of banking crises in the future."
The plans by Mr Barnier come as the eurozone faces the biggest crisis in its short history, as investors fear that the debt crisis that engulfed Greece will spread.
However, there are divisions among European countries on how to implement the tax and what it should be used for.
France and Britain would like the money raised to reparing the hole in public finances, but Germany wants to ring-fence the levy.
>>>
| Wednesday, May 26, 2010