Global Employment Crisis Will Stir Social Unrest, Warns UN Agency
THE TELEGRAPH: Global employment will not recover to pre-crisis levels until 2015 if current policies are pursued, creating social tension, the International Labour Organisation has warned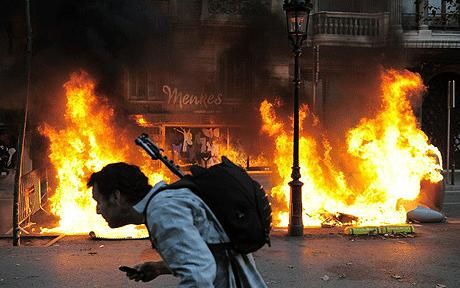 Rubbish bins burn in central Barcelona during the general strike. Photo: The Telegraph
The United Nations work agency said it was putting back by two years from 2013 its previous assessment of the time needed to create the 22 million jobs still needed to regain the pre-crisis level - 14 million in rich countries and 8 million in developing states.
The global economy has started to grow again with encouraging signs of employment recovery especially in some Asian and Latin American emerging economies, the ILO said in its annual World of Work report.
"Despite these significant gains ... new clouds have emerged on the employment horizon and the prospects have worsened significantly in many countries," it said.
Raymond Torres, lead author of the report, told a news conference that job losses since the crisis started had totalled some 30-35 million. The ILO has forecast global unemployment this year of 213 million, a rate of 6.5 per cent.
For the United States - where persistent unemployment has become one of the main issues in this November's elections - the number of jobs still needed to regain pre-crisis levels is 6.9 million, Steven Tobin, ILO economist, said.
The extended loss of employment and growing perceptions of unfairness risked increasing social tension, the ILO said.
>>>
| Thursday, September 30, 2010