Greek Rescue Frays As Irish Crisis Drags On
THE DAILY TELEGRAPH: The eurozone bail-out for Greece has begun to unravel after Austria suspended aid contributions over failure to comply with the rescue terms, and Germany warned Athens that its patience was running out.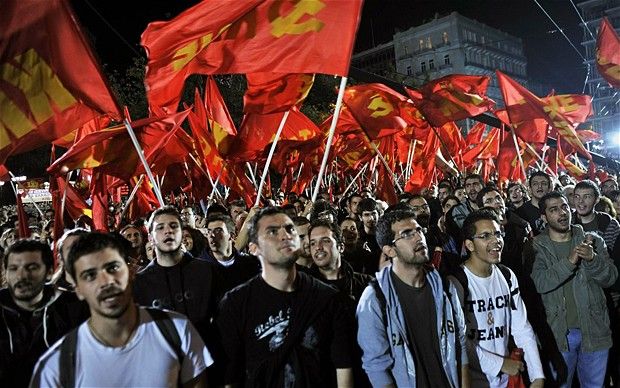 Thousands of Communist Party supporters wave flags during the protest rally in central Athens on November 15 against the IMF-EU troika visit in Athens and the expected new austrity package. Photo: The Daily Telegraph
The clash caught markets off-guard and heightened fears that Europe's debt crisis may be escalating, with deep confusion over the Irish crisis as Dublin continues to resist EU pressure to request its own rescue.
Olli Rehn, the EU economics commissioner, said escalating rhetoric in Europe was turning dangerous. "I want to call on every responsible European to resist the centrifugal tendencies and existential alarmism."
Swirling rumours hit eurozone bond markets, while bourses tumbled across the world. The FTSE 100 fell 2.4pc to 5681.9, and the Dow dropped over 200 points in early trading. The euro slid two cents to $1.3460 against the dollar as the US currency regained its safe-haven status.
Read on and comment >>>
Ambrose Evans-Pritchard | Tuesday, November 16, 2010
TELEGRAPH BLOGS – JEREMY WARNER:
Austria Tells Greece to Get Stuffed: Europe's hastily assembled bailout fund already seems to be coming apart at the seams, and that's before Ireland has even tapped into it. Austria is refusing to contribute to the next tranche of bailout money for Greece, citing the country's failure to meet conditions. Yesterday it emerged there is serious slippage in Greece's deficit reduction programme. >>>
Jeremy Warner | Tuesday, November 16, 2010