Blair Incorporated
THE TELEGRAPH: Tony Blair is the most highly paid speaker on the planet, and his wife is not doing too badly, either.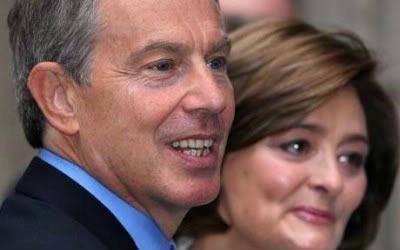 Mr and Mrs Blair have banked close to £18 million since leaving 10 Downing Street . Photo courtesy of The Telegraph
As Tony Blair soaked up the applause of an adoring Filipino audience at the end of his latest paid speaking engagement last month, a startling statistic must surely have popped into his head. In the space of just 30 minutes, Mr Blair had earned £183,000 – the same as his salary as prime minister.
Put another way, he earned £6,000 per minute for addressing a 2,000-strong audience in Manila, making him far and away the highest-paid public speaker on the planet.
And the lectures, where Mr Blair delivers such pearls of wisdom as "politics really matters, but a lot of what goes on is not great", are only a small part of his vast earnings, which could very well net him a staggering £80 million by the time he reaches retirement age in 10 years' time.
Welcome to Blair Incorporated, a money-making machine like no other in the history of former political leaders.
No other retired statesman, not even Mr Blair's old buddy Bill Clinton, has made so much cash so quickly after leaving office.
Between them, Mr Blair and his wife Cherie have banked close to £18 million in the two years since they moved out of Downing Street, with no sign of any let-up in their earning power.
Such is the demand for Mr Blair's services on the international speaking circuit that there is a two-year waiting list for bookings, and Max Markson, the colourful Australian PR man who has worked with the likes of Nelson Mandela and Mr Clinton, described him as "one of the biggest stars in the world".
Mr Blair, 55, is certainly acting the part. He has assembled a global empire with its headquarters in a smart four-storey office in Grosvenor Square and outlying offices in America, Africa and the Middle East.
>>>
By Gordon Rayner | Tuesday, April 14, 2009