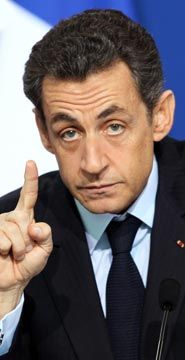 We Are in Charge Now, Sarkozy Tells the City
TIMES ONLINE: Alistair Darling has delivered a blunt warning to the EU's new French finance chief against meddling with the City of London.
As Nicolas Sarkozy gloated over impending curbs on the City, the Chancellor said that such moves would drive financial services out of Europe.
The French President's glee at the appointment of Michel Barnier as Commissioner for the Single Market took on an edge of menace yesterday when he said that unfettered City practices must end.
"Do you know what it means for me to see for the first time in 50 years a French European commissioner in charge of the internal market, including financial services, including the City [of London]?" he said yesterday.
"I want the world to see the victory of the European model, which has nothing to do with the excesses of financial capitalism," he said.
>>>
Francis Elliott, Suzy Jagger, Martin Waller and David Charter | Wednesday, December 02, 2009
TIMES ONLINE:
Banks blast 'hostile' Sarkozy over City rule gibe >>>
Robert Lindsay | Wednesday, December 02, 2009